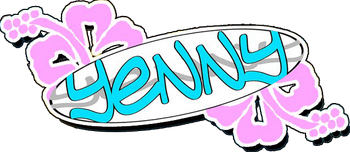 Yenny is a daily webcomic / newspaper comic strip by Puerto Rican comic artist David Álvarez. It started in 1988 as a comic strip named Zacha & Anyelín in the Puerto Rican regional newspaper "El Manatí". For years it appeared in several websites, until it became known among comic strip fans around the world.
Storyline
Edit
The titular character is a 22-year-old aspiring model who wants to be a catwalk supermodel but is hindered by her oversized (and extremely ticklish) feet. According to Alvarez, Yenny's shoe size is 18½. She lives in a cottage with her mother Yunissa, her younger sister Yessy, an iguana named Zacha, and a turtle named Bukestalifaro (Buke). Between her modeling assignments and school, she plays volleyball and does various odd jobs such as babysitting, waitressing, retail services or housecleaning.
The strip was syndicated by Universal Press Syndicate's GoComics and is published inside magazines in the Spanish Laguage area, specially in Puerto Rico's leading newspaper Primera Hora.
Currently the strips are featured on Yenny's facebook group page....
The comic series is popular for its frequent uses of extreme "Looney Tunes" style humor, mixed with occasional moments of drama and other elements, such as fanservice and real life issues. It can be best described as a cartoonish sitcom with a near Seinfeld-like structure that explores the daily life of Yenny and the characters she is around, and what she manages to do and resolve with them. In the early 2000s, Yenny's adventures were rich with hilarity ranging from spontaneous and silly, to outrageous and bizarre. After 2006, the series took a more serious approach exploring elements such as family and relationship values, infidelity, and pregnancy, all while retaining the usual humor the series has established.
For more than 10 years and over 2000 comic strips, the Yenny comic series continues to gain popularity and fans each day.